Be sure to check our Classified Ads page.
A Celebration of the life of Marc Gergen, W0WCH, will be held on June 21, 2023 from 1600 – 1900 at Stroo Funeral home (1095 68th St SE, Grand Rapids, MI 49508) Marc was a long time IRA board member and also held the Treasurer's post for many of those years.
---
Thank you to everyone who attended and helped at the 2022
IRA Open House and cleanup on October 1.
This year's 2023 cleanup is currently scheduled for September 30.

Next year's 2023 IRA Hamfest will be held on Saturday, June 3 from 8 am – noon.
Hope to see you there.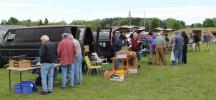 Please turn off your Roger Beep when using the IRA repeater system.
Thank you to all of you who continue to donate to support the link system.
If you use the link repeater system, please consider donating to help cover expenses. In addition to our operating expenses, we had to relocate our Big Rapids site. Using the Pay Pal link below, you can make a tax deductible single or monthly donation that helps to ensure the future the the IRA repeater system.
5/9/22:  Sister Lakes TX  output is low
See the link status page for information on all sites.
---
The KC8KGZ repeater in Flint is now connected to the W8IRA link system.
---
---
Internet Links
Echolink on W8IRA system – search for W8IRA-R
W8IRA Allstar node is 472440
---
Guidelines for internet connections to the W8IRA link repeater system
The IRA welcomes stations connecting to our system using Echolink W8IRA-R (node 974494) or Allstar, node 472440.
Permanent network connections must be approved by the IRA board in advance.
Individual or hub connections are allowed, including during IRA nets.
External connections are not allowed to run non-IRA nets while connected to the IRA system.
Connections that cause interference to the IRA system will be disconnected.