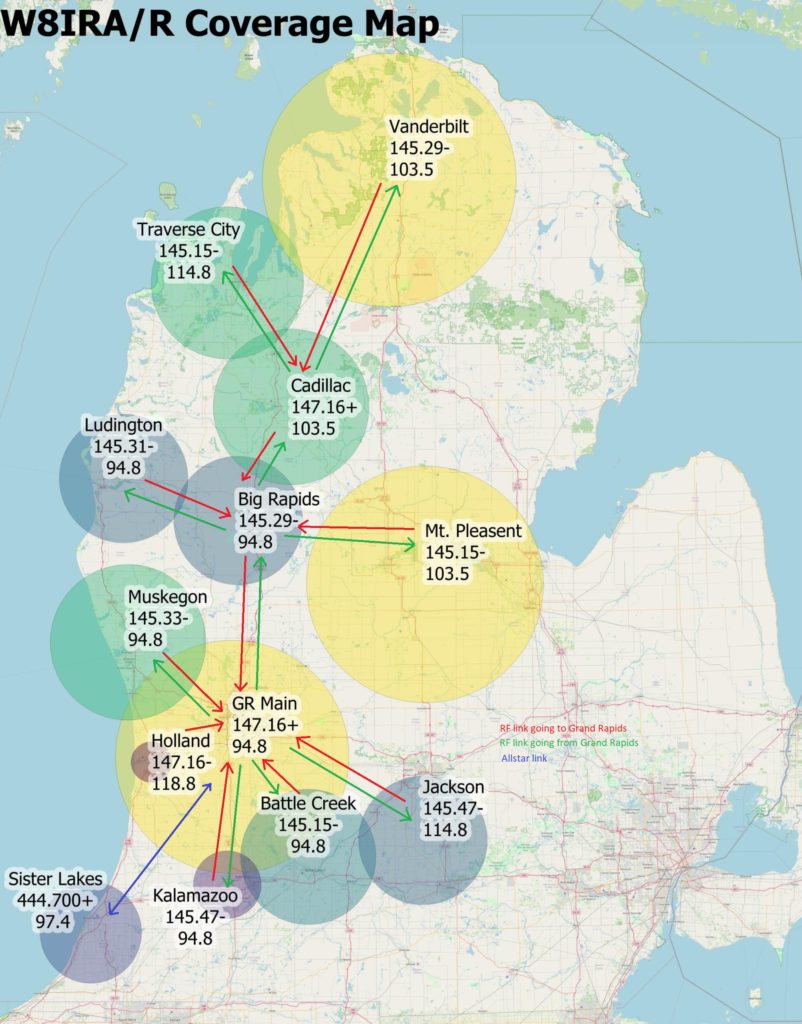 Current internet links: http://stats.allstarlink.org/getstatus.cgi?472440
Frequency
Location
Status
145.15-
BATTLE CREEK
OPERATIONAL (94.8 Hz CTCSS)
145.15-
PLEASANT VALLEY (MT. PLEASANT)
OPERATIONAL (103.5 Hz CTCSS) works as stand alone repeater if link to GR drops out.
145.15-
TRAVERSE CITY
OPERATIONAL (114.8 Hz CTCSS) 
145.29-
BIG RAPIDS

OPERATIONAL (94.8 Hz CTCSS) works as stand alone repeater if link to GR drops out. All northern links audio is repeated back from Big Rapids and also sent to GR.

145.29-
VANDERBILT/ GAYLORD
OPERATIONAL (103.5 Hz CTCSS)

Intermittent. Need to replace an antenna, probably in September

145.31-
SCOTTVILLE/LUDINGTON

OPERATIONAL

 (94.8 Hz CTCSS)
145.33-
MUSKEGON

OPERATIONAL

 (94.8 Hz CTCSS)
145.47
ST. JOSEPH /BENTON HARBOR
Decommissioned (94.8 Hz CTCSS)see Sister Lakes
145.47-
JACKSON

OPERATIONAL

(114.8 Hz CTCSS)
 
 
146.84
MACKINAW CITY
Decommissioned (103.5 Hz CTCSS)
147.16+
GRAND RAPIDS
OPERATIONAL (94.8 Hz CTCSS)
 
*When in the Holland area, you can access the 147.16 link using a 118.8 Hz tone while listening to Grand Rapids.
145.47-
Kalamazoo/Oshtemo

OPERATIONAL (94.8 Hz CTCSS)

May have intermittent receive; Link antenna  replacement planned.

147.16+
CADILLAC

OPERATIONAL (103.5 Hz CTCSS)

444.700+
SISTER LAKES

OPERATIONAL (97.4 Hz CTCSS)

Power output is 10 watts

147.100
FLINT

OPERATIONAL (100.0 Hz)

MSCG repeater connected to W8IRA system, Allstar link
Note on IRA link audio: We have full quieting signals between all links except between Grand Rapids and Big Rapids. This link can become noisy or drop out during summer afternoons. For this reason, any signals originating in Big Rapids or north is repeated back from Big Rapids, along with being sent to Grand Rapids. This results in good audio going to the northern links that originates in the northern links.
Signals coming from Grand Rapids going to Big Rapids and north may become noisy, depending on propagation. Likewise, signals coming from Big Rapids to Grand Rapids have the same problem. Keep in mind any Allstar or Echolink connections enter our system in Grand Rapids, and are subject to this same problem on the northern links.
We are also starting to enable each location repeater to repeat it's local audio without going through the entire link system. It will still send the received audio to the entire link system, but local audio will have the best quality. At this time, Big Rapids and Mt Pleasant both have this enabled.