The next IRA Hudsonville Hamfest will be June 1, 2024
Vendor Gate opens at 6:30 AM
IRA Hamfest 2024 Flyer is available in 3 formats. Click on a small image below for a full size version.
Full Sheet: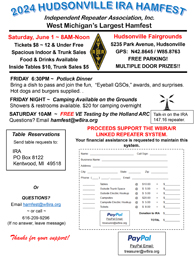 Half Sheet: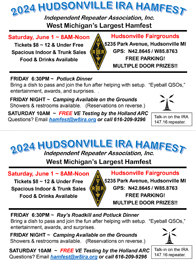 Two Sided: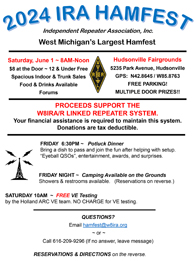 Volunteers are needed for the following times and activities:
Friday:  May 31 from 2 pm to 6 pm:  initial setup.  All volunteers are welcome to stay for free food at the potluck afterwards
Saturday:  June 1 from 6 am to 8 am: Setup completion
Saturday:  June 1 Will need talk-in net control for first hour or two of the swap. Radio will be provided at central stage platform
Saturday:  June 1 from 8 am to 10 am or 11 am: Help needed at entry doors
Saturday:  June 1 Take-down immediately after swap. 
If you can assist, please contact Tom Behler, KB8TYJ at kb8tyj@arrl.net  with your preferred time slots/activities.